Message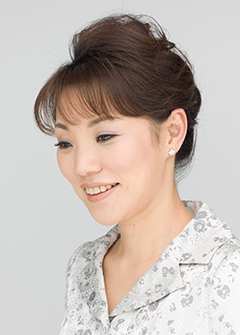 From the 2015 Ikenobo Autumn Tanabata Exhibition, I have decided to formally take my name as Senko Ikenobo, the Buddhist name I first received when I took Buddhist vows in 1989. On the occasion of celebrating the 70th anniversary of Headmaster Sen'ei Ikenobo's becoming Forty-fifth Headmaster, I will make a new start as Senko Ikenobo.
To the best of my ability I hope to promote ikebana, one of the representative aspects of Japanese traditional culture, to the next generation.
Profile
Senko Ikenobo is Headmaster Designate of Ikenobo, a family whose first generation is traced back to Ono no Imoko and whose philosophy of ikebana was established in the Muromachi period (1336-1573). In 2015, she formally took the name Senko Ikenobo. She also serves as a Vice Head Priest of Shiunzan Chohoji (Rokkakudo) temple in Kyoto. Her varied activities focus on life as emphasized through Ikenobo ikebana.
As an Honorary Consul of Iceland, she has also contributed to fostering international friendship. In 2013, she conducted an ikebana workshop at Harvard University and performed a flower offering ceremony with a wish for world peace at the United Nations Headquarters in New York.
January
2007
Appointed as Vice President of the Japan Ikebana Art Association
May
2010
Guided H.I.H. The Crown Prince at a commemorative lecture of the Pacific Association of Pediatric Surgeons Annual Meeting
October
2010
Conducted a floral offering ceremony on the occasion of the 1250th memorial of Empress Komyo at Todaiji Temple
November
2011
Began to conduct floral offerings at 33 temples on the pilgrimage of Buddhist temples in western Japan, starting from the Rokkakudo temple, as a memorial and wishing for recovery of the victims of catastrophes, and for peace and happiness in Japan
January
2012
Assumed the position of Honorary Consul of Iceland in Kyoto
September
2012
Visited Iceland as Honorary Consul, fostering international friendship and promoting ikebana
March
2013
Visited Boston and New York, U.S.A. on the occasion of the Ikenobo Ikebana 550th Year. Conducted an ikebana workshop at Harvard University and performed a floral offering ceremony at United Nations Headquarters
October
2013
Presented floral offering ceremonies at Izumo Shrine on the occasion of the "Sengu of the Heisei Period,"and at Ise Shrine celebrating the "Shikinen Sengu"
March
2015
Appointed as a member of the Culture and Education Commission of the Tokyo Organizing Committee for the Olympic and Paralympic Games
May
2016
Presented floral offering ceremonies at Kashihara Jingu Shrine
May
2016
Completed all the floral offerings at 33 temples on the pilgrimage of Buddhist temples in western Japan, starting from the Rokkakudo temple
May
2016
Presented ikebana arrangements at Shima Kanko Hotel for 42nd G7 Summit in Kashiko Island, Shima, Mie Prefecture, Japan
April
2017
Wrote the book "Ikebana to Kimono" with Mr. Takatoshi Yajima
October
2018
Presented floral offering ceremonies at Kohfukuji Temple in Nara
October
2019
Appointed as Administrator of Expo 2025 Osaka, Kansai
December
2019
Appointed as Senior Adviser of Expo 2025 Osaka, Kansai
April
2020
Presented ikebana arrangement for praying with Mr. Sen'ei Ikenobo for the COVID-19 outbreak at Rokkakudo Temple in Kyoto